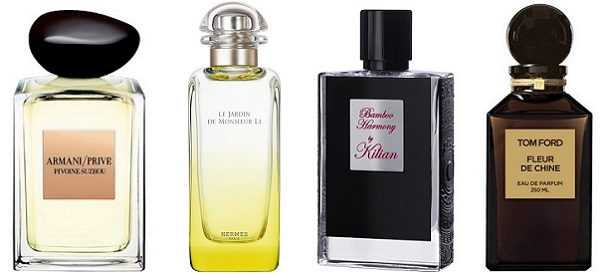 (Read the English version below)
Paysages, culture, ingrédients : la Chine inspire les parfums. Avec plus d'un milliard d'habitants, elle reste un marché prometteur pour de nombreuses marques…
Un vent chinois souffle sur les créations olfactives. La ligne Armani Privé s'est récemment agrandie avec Pivoine Suzhou. Ville à proximité de Shanghai, Suzhou est réputée pour ses jardins, classés au patrimoine de l'Unesco. La fragrance est un bouquet floral frais et fruité.
Chez Hermès, après l'Egypte ou l'Inde, la collection des jardins s'invite elle aussi en Chine. Avec ses facettes vertes et pétillantes (kumquat, jasmin, bambou…), la fragrance a été baptisée Le jardin de Monsieur Li. Le patronyme, pour être courant en Chine est aussi celui de Li Xin, un artiste chinois contemporain qui a dessiné l'étui du parfum, explique Hermès. Côté mode, Hermès s'est mise à l'heure chinoise dès 2010 avec le lancement d'une nouvelle marque, Shang Xia.
Au-delà de la forte croissance de la Chine, il y a une vraie appétence de ses consommateurs pour le luxe, localement, mais aussi lors de voyages à l'étranger. "Les Chinois dépensent encore près de 60 % de leur budget luxe à l'étranger et contribuent également à la croissance des points de vente européens, selon L'Oréal. En France, ils étaient à l'origine d'un quart des achats détaxés en 2011".
Pour eux, les parfums occidentaux et notamment français sont perçus comme plus luxueux, et avec une meilleure tenue. La difficulté pour les marques est de proposer des fragrances adaptées aux goûts locaux. Elles doivent être "à la fois fraîches, naturelles et légères" explique l'experte olfactive chinoise Sophie Zhang. Les notes fruitées sont appréciées mais elles doivent rester fraîches et non gourmandes.
Aujourd'hui, la référence à des ingrédients chinois reste relativement cantonnée aux marques de niche, ou du moins alternatives. Parmi elles, on peut citer Tom Ford avec Fleur de Chine et Shanghai Lily dans la ligne Private Blend. Mais aussi Kilian : sa collection Asian Tales propose des fragrances autour du bambou, de l'eau, du thé.
En 2011, Roger & Gallet avait lancé Fleur d'Osmanthus, un parfum "inspiré d'un voyage (…) aux confins de la vallée de Guilin", ville du Sud de la Chine. D'autres marques ont mis en scène l'odeur abricotée de la fleur d'osmanthus, comme Jo Malone (Osmanthus Blossom), Parfum d'Empire (Osmanthus Interdite), Brecourt (Osmanthus Guilin), etc.
A l'instar d'autres marchés à forte croissance, la Chine fait rêver les marques occidentales. Mais la culture du parfum doit y être renforcée. Il faut créer un besoin, et pas uniquement pour le cadeau. Dans un marché de la beauté encore très largement dominé par le soin, le parfum a une place à prendre…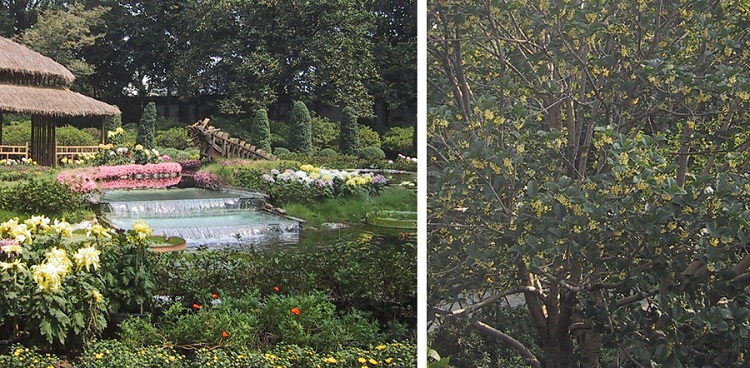 Landscapes, culture, ingredients: China inspires fragrances. With over a billion inhabitants, it remains a promising market for many brands…
A Chinese wind is blowing on olfactory creations. The Armani Privé line was recently expanded with Pivoine Suzhou. Suzhou, a city near Shanghai, is famous for its gardens, classified as a UNESCO World heritage site. The fragrance is a fresh and fruity floral bouquet.
At Hermès, after Egypt and India, The Garden-Perfumes collection takes an interest in China. Revealing green and sparkling facets of kumquat, jasmine and bamboo, the fragrance is called Le jardin de Monsieur Li (Mr. Li's garden). The family name, which is quite common in China, is also Li Xin's one. Li Xin is a contemporary Chinese artist who designed the fragrance's case, explains Hermès. As regards fashion, Hermès strengthened its presence in China with the launch of a new brand, Shang Xia in 2010.
Beyond China's strong growth, there's a real appetite of its consumers for luxury, both locally and when traveling abroad. "The Chinese still spend nearly 60% of their luxury budget abroad, and also contribute to growth in European points of sale: in France they made one-quarter of all duty-free purchases in 2011", according to L'Oréal.
They perceive Western perfumes -and especially French ones- as more luxurious and more persistent. The main challenge for brands is to propose fragrances adapted to local tastes. They must be "fresh, natural and soft at the same time" explains Chinese olfactory expert Sophie Zhang. People like fruity notes but they have to be fresh and not gourmand.
Today, the reference to Chinese ingredients remains relatively confined to niche brands (or at least, alternative brands). Among them, we can include Tom Ford's Fleur de Chine and Shanghai Lily, both part of the Private Blend collection. But also Kilian: its Asian Tales collection proposes fragrances around bamboo, water and tea.
In 2011, Roger & Gallet launched Fleur d'Osmanthus. It's a fragrance "inspired by a Chinese garden of Eden" in the valley of Guilin, a city in the South of China. Other brands have staged the apricot scent of osmanthus flower, like Jo Malone (Osmanthus Blossom), Parfum d'Empire (Osmanthus Interdite), Brecourt (Osmanthus Guilin), etc.

Like for other high growth markets, Western brands have high hopes for China. But the olfactory culture still has to be improved and strengthened. Brands must create a need, and not only for gifts. In a beauty market currently dominated by skin care, perfume still has a part to play.