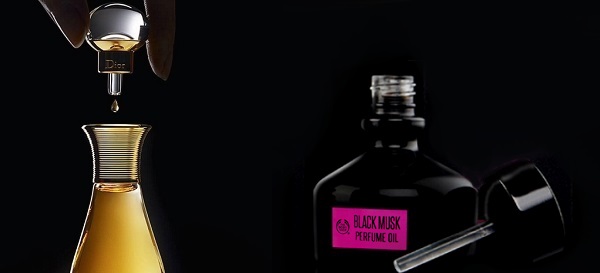 (Read the English version below)
Au-delà du traditionnel vaporisateur, de nouveaux gestes parfumés sont en vogue. Des innovations pour redonner ses lettres de noblesse au parfum… et reconquérir les consommateurs.
Touche de parfum chez Dior, "accord illicite" chez Givenchy, layering duo chez Atelier Cologne… : les nouveaux produits revendiquent une expérience de parfumage différente. L'huile de parfum Sì d'Armani est ainsi présentée comme un rituel rare et luxueux inspiré de l'ancienne Egypte.
Mais ces nouvelles formulations suivent aussi une tendance de fond observée dans le maquillage et le soin. Des textures plus sensorielles (sérum, huile en lait…), des formats et usages détournés. Mais aussi des produits multi-usages : stick lèvres et joues, BB et CC cream…
Le secteur du parfum, jugé plus conservateur, a déjà proposé plusieurs initiatives de multi-usage. Mais dans les faits, le vaporisateur reste le produit le plus vendu.
L'opportunité de ces nouveaux gestes olfactifs est de réenchanter le parfum. Dans un marché surchargé en nouveautés, les consommateurs ont en effet du mal à être surpris. Pour certains d'entre eux, se parfumer relève d'ailleurs plus d'un rituel d'hygiène que de mise en beauté ou de luxe.
"La gestuelle de parfum a évolué au fil des âges mais s'est banalisée avec la démocratisation du vaporisateur" expliquait la parfumeuse Emmanuelle Giron, lors d'une conférence organisée par le fabricant de packagings Aptar. Leur nouveau produit, Note, vient d'être choisi par Dior pour J'adore Touche de Parfum. Il ne s'agit pas d'un vaporisateur, ni d'une pipette même si la gestuelle s'applique par goutte.
Le mécanisme, sophistiqué, permet d'appliquer le parfum avec un applicateur ; la fragrance remontant vers l'applicateur par rotation du bouchon. "Une forme standard", cependant, "s'adaptant sur les cols verre" de nombreux flacons et qui pourrait donc séduire d'autres marques que Dior.
Cette dernière avait déjà innové en 2014 avec les Elixirs précieux, des huiles parfumées premium à accessoiriser avec son parfum. Et, c'est la seconde tendance qui influence ces nouveaux produits : l'envie d'un parfum sur mesure.
Dans les faits, on est dans un parfumage personnalisé plutôt que dans le sur mesure. Les prix n'ayant en effet rien à voir avec les offres de 'vrai sur mesure' qui dépassent souvent 10 ou 20 mille euros le parfum.
Avec la personnalisation, on accessoirise son parfum avec une huile coordonnée (huile Sì d'Armani), avec un élixir au choix (Dior). Ou on mixe deux parfums vendus pour cet usage (Atelier Cologne, Jo Malone). Très longtemps tabou, le mix de parfums intéresse de plus en plus les marques actuellement.
Il ne s'agit pas de mélanger ensemble deux classiques, tels N°5 et Angel, dans un nouveau flacon, mais d'associer deux parfums – idéalement d'une même marque, dans une gestuelle innovante. Exemple : l'un sur la peau, l'autre dans les cheveux, les points de pulsation ou sur les vêtements.
Pour les marques, l'intérêt de parfums customisables est double. Séduire de nouveaux consommateurs via des usages du parfum plus modernes, plus glamour, plus fun ou davantage personnalisés. Mais également de vendre plusieurs produits à la fois !

Beyond the traditional spray, new scented gestures become trendy. These innovations aim to bring back perfume's former glory… and to regain consumers.
Touche de Parfum by Dior, "accord illicite" by Givenchy, layering duo by Atelier Cologne …: the new products claim a different perfume experience. Armani Sì huile de parfum (perfume oil) is presented as a rare and luxurious ritual inspired by ancient Egypt.
But those new formulations also follow a long-term trend observed in makeup and skincare: more sensorial textured (serums, oils in milk…), diverted-use packagings or products, etc. Moreover, there are more and more multi-purpose products available: lip and cheek sticks, BB and CC creams…
The perfume sector, judged more conservative, has already offered several initiatives of multi-use products. But spray bottles remain largely the best-selling format.
These new gestures have the opportunity to reenchant perfume. In a market overloaded by new launches, consumers are hard to surprise. For some of them, using perfume is more a hygiene ritual than a beauty or luxury experience.
"Perfume gesture has evolved over the ages but has trivialised with the democratisation of spray bottles", explained the perfumer Emmanuelle Giron during a conference organised by the packaging manufacturer Aptar. Their new product, Note, has just been chosen by Dior for J'Adore Touche de parfum. It is neither a spray, nor a pipette even if the gesture is applied by drops.
The sophisticated mechanism allows the application of the perfume with an applicator; the fragrance sliding up towards the applicator by rotation of the cap. It is "a standard shape", however, easily adaptable on the glass collar of numerous bottles and could thus be appealing to other brands than Dior.
Dior already innovated in 2014 with the Elixirs Précieux, premium perfume oils to mix with your perfume. Furthermore, it is a second trend that influences new products: the desire for custom-made fragrances.
Actually, it's more a personalized perfumery experience rather than custom-made. Indeed, the prices have nothing in common with bespoke perfumes which often exceed 10 or 20 thousand euros.
With customisation, perfumes can be accessorised with the coordinated oil (Armani Sì oil), with a chosen elixir (Dior). People can also mix two fragrances designed for this particular use (Atelier Cologne, Jo Malone). It was taboo for a very long time, but nowadays mixing perfumes interests more and more brands.
It is not a question of mixing two classics together in a new bottle, such as Chanel No. 5 and Thierry Mugler Angel, but to associate two fragrances -ideally of the same brand, in an innovative gesture. For example: one on skin, another in hair, on pulsation points or clothes.
For brands, there is a double interest in customisable fragrances: seducing new consumers via more modern and glamorous, funnier or more personalised uses of perfume… But also selling several products at the same time!