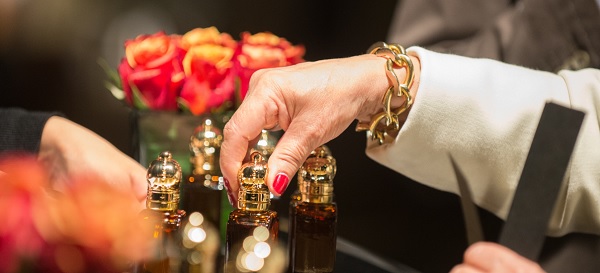 (Read the English version below)
Alors que l'intérêt des grands groupes pour la parfumerie de niche croît, celle-ci évolue et devient plus mature. Analyse du marché via l'édition 2015 d'Esxence, salon majeur de la parfumerie alternative.
Un secteur en croissance
6500 personnes (+6 % vs 2014) avaient fait le déplacement à Esxence, preuve que la parfumerie de niche se développe et commence à sortir de la niche.
D'après Equipe International, organisateur du salon, la "parfumerie artistique" représente des ventes de l'ordre de 170 à 175 millions d'euros rien qu'en Italie, soit près de 2 % du total du secteur beauté, mais 12,5 % des ventes de parfums.
Les créateurs italiens étaient bien représentés. Les marques françaises également, même si le reconnaissent la plupart d'entre elles, leurs ventes se font principalement à l'export.
Selon les exposants interrogés, la Russie continue de montrer un intérêt fort pour la parfumerie de niche, tout comme le Moyen-Orient.
Devenir le nouveau Frédéric Malle
Tendance forte observée sur Esxence : des lancements avec des prix plus élevés. Les concentrations s'intensifient, les fragrances sont repackagées dans des flacons plus luxueux, moins standardisés. Couleurs dorées ou fumées et lourd poids de verre s'accompagnent aussi de cuir, de strass, voire de pièces précieuses. C'est le cas de la marque américaine House of Sillage dont certains produits dépassent 100 mille dollars.
Autre argument entendu plusieurs fois sur le salon : l'utilisation d' "ingrédients de haute qualité". Cette formulation, destinée à rassurer le consommateur, est également là pour justifier des fragrances dont le prix du concentré comme du produit fini croît.
Le rôle du parfumeur change également. Jadis fournisseur, aujourd'hui partenaire, il est de plus en plus mis en avant.
La marque italienne Masque par exemple affiche le nom des parfumeurs sur ses flacons comme le fait Frédéric Malle. Le nom du créateur parisien, quant à lui, revient à de nombreuses reprises, quand il est question des tendances olfactives, des prix, mais aussi de l'avenir de la niche. Devenir le nouveau Frédéric Malle est l'ambition de plusieurs marques présentes sur le salon milanais.
Augmenter le panier moyen grâce au soin
Esxence proposait cette année pour la première fois un espace dédié au soin. Baptisé Esxkin, il accueillait des marques avec un positionnement lui aussi alternatif.
Si le salon était consacré au parfum dans sa très grande majorité, la présentation d'une offre de soin trouve son intérêt auprès de points de vente souhaitant incarner une alternative durable aux parfumeries sélectives traditionnelles – elles-mêmes vendant également des produits de beauté.
Face à un secteur sélectif atone, la niche devrait en effet continuer à grignoter des parts de marché.
adaptation d'un article pour Expression Cosmétique

The interest of large groups for niche perfumery is increasing while the latter is developing itself and gaining in maturity. Analysis of the market via the 2015 edition of Esxence. A major trade show in alternative perfumery.
A growing industry
6,500 people (+6% vs. 2014) made the trip, a proof that the niche perfumery is growing and starting to come out of its niche.
According to Equipe International, the show organizer "artistic perfumery" represents sales of around 170 to €175m in Italy alone, that is, nearly 2% of the total beauty industry, but 12.5% of perfume sales.
Italian creators were well represented. French brands too, although most of them recognize that their sales come mainly from exports.
According to the exhibitors interviewed, Russia continues to show a strong interest in this sector, just like the Middle East.
Becoming the new Frédéric Malle
A strong trend at Esxence: launches with higher prices. Concentrations are increasing, fragrances are repackaged in more luxurious, less standardized bottles. Golden or smoky colours and heavy glass bottles are also proposed with leather, glitters and even gemstones.
This is the case with the American brand House of Sillage, with some of its products exceeding $100,000.
Another argument heard several times at the show: the use of "high-quality ingredients." This formulation, intended to reassure consumers, also helps justify the soaring price of the fragrance's concentrates and finished product.
The role of the perfumer also changes. Formerly a supplier, today a partner, he is increasingly put forward.
The Italian brand Masque, for example, indicates the name of the perfumers on its bottles as does Frédéric Malle. The name of the Parisian creator is mentioned many times, when it comes to olfactory trends, prices, but also the future of the niche. Becoming the new Frédéric Malle is the ambition of many brands present at the Milan show.
Increasing the average basket with skincare
For the first time this year, Esxence had an area dedicated to skincare. Named Esxkin, it gathered brands also featuring an alternative positioning.
If the show, for a large part, was dedicated to perfumes, the presentation of a skincare offer found an echo with point of sales wishing to embody a sustainable alternative to traditional selective perfume outlets – also selling beauty products.
Given a sluggish selective sector, the niche should indeed continue to gain market shares.
adaptation of an article written for Expression Cosmétique