(Read the English version below)
Vanille, monoï, violette : ce ne sont pas les dernières notes prisées par les parfumeurs mais des senteurs proposées pour du papier toilette. Lumière sur ces produits à travers une étude effectuée pour un de nos clients. Sa finalité ? Proposer un cahier de tendances, olfactif et coloriel, pour l'automne-hiver.
La demande de notre client était : proposer une sélection de notes et les couleurs correspondantes pour une collection automne-hiver. Eh oui, les préférences olfactives des consommateurs peuvent changer avec la saison !
Afin de choisir les couleurs, plusieurs critères ont dû être pris en considération. Les teintes devaient être différentes de l'offre printemps / été mais également distinctes des coloris classiques, à savoir le rose et le blanc. Tout en restant cohérentes avec la saison, ces couleurs ne doivent pas être trop segmentantes. En effet, à l'inverse de Renova, difficile de proposer des teintes noires ou marron, qui ne font pas assez propres aux yeux des consommateurs.
Trois coloris ont été choisis : vert céladon, jaune crème et bois de rose. Le premier est un vert doux et apaisant, légèrement aquatique. Le deuxième est une teinte délicate et chaleureuse évoquant le sable et l'ivoire. Le troisième, plus chaud, se rapproche de l'idée d'un pourpre en pastel, avec des accents roses et bruns.
Seconde étape : les propositions olfactives. Pour le vert céladon, nous nous sommes orientés vers des senteurs vertes-fleuries et vertes-boisées. Nous avons suggéré 3 notes : 'Feuilles de bambou', un sillage vert aux accents humides et boisés, 'Lait d'aloe vera', parfum à la douceur verte, suave et apaisante et 'Fraîcheur de la forêt', un vert plus vif et rafraîchissant aux tonalités bois, feuilles et fougère.
Pour le coloris jaune crème, les 3 soumissions olfactives correspondent à des effluves floraux, plus ou moins poudrés ou solaires. Tout d'abord une note 'Jasmin', façon bouquet blanc, tendre et lumineux. Puis 'Soleil d'hiver', qui rappelle l'ambiance des îles avec effluves de fleurs exotiques et de monoï, et enfin 'Mimosa', un accord doux, poudré et ensoleillé.
La couleur bois de rose reste dans une dimension florale, mais davantage florientale ou aérienne. Nous avons suggéré de développer un accord 'Coquelicot' au sillage balsamique et poudré, une note 'Pivoine' au parfum floral aérien, et 'Orchidée', un accord floral aux facettes davantage vanillées.
On parle souvent de briefs pour la parfumerie fine, de collections pour la mode. Mais gels douche, lessives et papiers toilette suivent eux aussi les tendances. Aujourd'hui, tout se parfume !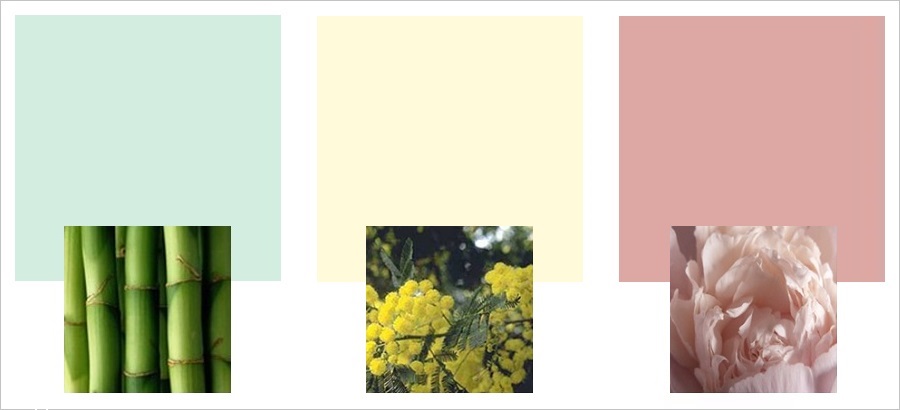 Vanilla, monoï, violet: these aren't the latest notes that perfumers are looking for, but they're scents for toilet paper. Let's shed some light on these products through a study we did for one of our clients. Its purpose? To imagine an olfactory and colorful trend book for autumn-winter.
Our client's request was: to think about a selection of notes and the corresponding colours for an autumn-winter collection. Yes, consumers' olfactory preferences can change with the season!
In order to choose the colours, several criteria had to be taken into consideration. The shades had to be different from the spring/summer offer but also distinct from the classic colours, namely pink and white. While remaining consistent with the season, these colours should not be too segmented. Indeed, unlike Renova, it is difficult to offer black or brown shades, which do not look clean enough to consumers.
Three colours were chosen: celadon green, creamy yellow and rosewood.The first is a soft and soothing green, slightly aquatic.  The second is a delicate and warm hue evoking sand and ivory.The third, warmer, is close to the idea of a pastel purple, with pink and brown accents.
Second step: the olfactory proposals. For celadon green, we went for green-floral and green-woody scents. We suggested 3 notes: 'Bamboo leaves', a green trail with moist, woodsy accents, 'Aloe vera milk', a sweet, soothing green scent, and 'Freshness of the forest', a brighter, more refreshing green scent with woodsy, leafy and fern tonalities.
For 'Creamy Yellow', the 3 olfactory submissions correspond to floral scents, more or less powdery or solar. First of all, a 'Jasmine' note, like a white, tender and luminous bouquet. Then 'Soleil d'hiver', which evokes the atmosphere of islands with waves of exotic flowers and monoi, and finally 'Mimosa', a sweet, powdery and sunny accord.
The rosewood color remains in a floral dimension, but more floral or airy. We suggested developing a 'Poppy' accord with a powdery, balsamic trail, a 'Peony' note with an airy floral scent, and 'Orchid', a floral accord with more vanilla-scented facets.
We often talk about briefs for fine fragrance and collections for fashion. But shower gels, laundry detergents and toilet paper also follow trends. Nowadays, everything can be perfumed!