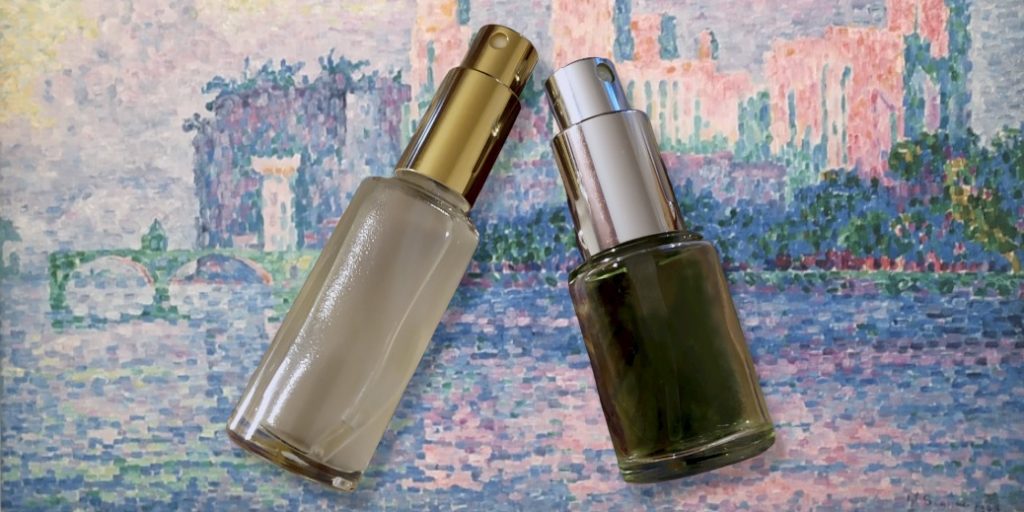 (Read the English version below)
Trouble, opaque ou trop sombre : ce qui est beau sur une toile impressionniste ne l'est pas forcément dans un flacon ! Il faut souvent colorer les jus ou les flacons pour rendre un produit fini plus présentable, voire les deux. Celui à droite par exemple est vendu dans un flacon fumé.
De même lors des produits en développement, certains ingrédients peuvent opacifier le parfum, comme l'ylang ylang. Mais certaines marques n'ont pas peur des jus troubles et peuvent en faire un atout.
Les jus opaques peuvent en effet se révéler une alternative intéressante aux parfums clairs ou translucides. Ils permettront en outre de raconter d'intéressantes histoires aux consommateurs. Un jus blanchâtre ou ivoire peut renforcer un univers olfactif musqué ou lacté.
D'autres marques, aiment proposer des jus aux couleurs particulièrement intenses : violet, rouge, brun… C'est le cas notamment de Serge Lutens.
Pour celles et ceux qui, comme moi, aiment parfumer leurs vêtements, il vaut mieux tester avant.
Il y a quelques années les équipes de Coty avaient développé un jus noir pour la chanteuse Lady Gaga : en dépit de sa couleur sombre, le parfum promettait de ne pas tacher les vêtements.
Un jus plus clair aurait-il eu davantage de succès ? Peut-être, mais il aurait assurément moins fait parler de lui pour son lancement.
> Créer un parfum qui correspond à la bonne couleur (et vice versa) : parlons-en !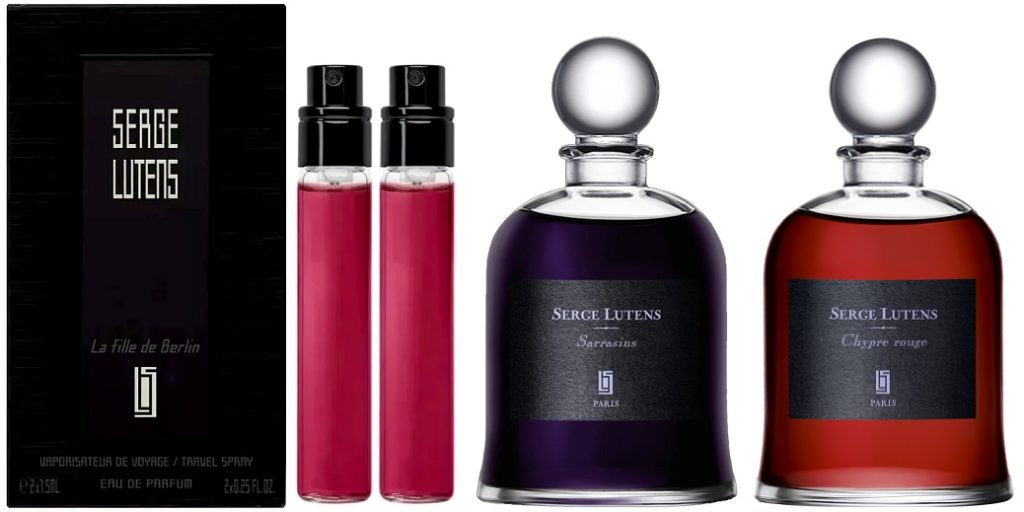 Cloudy, opaque or too dark: what looks beautiful on an impressionist canvas is not necessarily beautiful in a bottle! It is often necessary to colour the juices or bottles to make a finished product more satisfactory… or even both. The one on the right in the header photo, for example, is sold in a smoky bottle.
Also when developing products, some ingredients can opacify the fragrance, like ylang ylang. But some brands are not afraid of cloudy juices and can turn them in an asset.
Opaque juices can indeed be an interesting alternative to clear or translucent fragrances. They will also tell interesting stories to consumers. A whitish or ivory juice can reinforce a musky or milky olfactory universe.
Other brands like to offer juices with particularly intense shades: purple, red, brown … This is the case of Serge Lutens.
For those who, like me, like to put perfume on their clothes, it is better to test it first.
A few years ago the Coty teams had developed a black juice for singer Lady Gaga: despite its dark colour, the perfume promised not to stain clothes.
Would a clearer juice have been more successful? Perhaps, but it would certainly have been less talked about at its launch.
> Creating a fragrance that matches the right colour (and vice versa): let's talk about it!