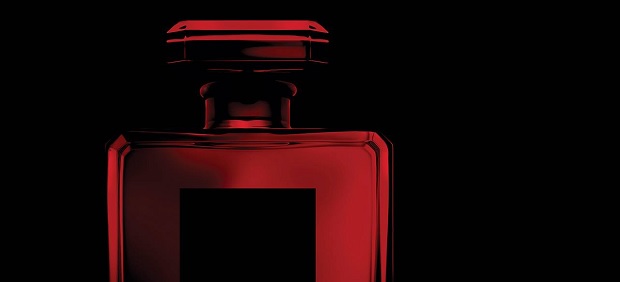 (Read the English version below)
Flacons collectors, variations ou nouveautés : le rouge inspire les marques de parfum et fait vendre.
Fin 2018, Chanel a rhabillé en rouge ses flacons de N°5 et N°5 L'Eau. Une teinte rouge grenat très visuelle qui confère une vraie modernité au produit, les fragrances restant inchangées. Le changement de teinte permet de redonner un coup de jeune à la marque et l'opération est un succès commercial. En 2015, Mugler avait également relooké en rouge sans en changer la fragrance le flacon d'Angel. L'opération avait été moins médiatisée mais comme pour N°5, le flacon devenu rouge avait suscité l'intérêt et la surprise.
Le rouge est à la mode actuellement et certaines marques ont lancé des variations en rouge de leurs parfums : Sì Passione d'Armani (floral-fruité), Flower by Kenzo Red (plus solaire) ou Narciso Eau de Parfum Rouge (floriental poudré). Parmi les produits nouveaux, Rouge Smoking de la marque de niche BDK fait référence à l'univers de Pigalle. Quant à Rose Rouge de Van Cleef & Arpels, la fleur est traitée sous un angle légèrement gourmand.
La tendance rouge n'est pas nouvelle mais s'accentue. Le rouge est très visible en linéaires, un avantage dans des points de vente surchargés en nouveautés.
Le rouge est également très présent grâce à l'influence du rouge à lèvres, un produit d'entrée de gamme pour les marques de luxe. De nombreuses marques de parfums s'inspirent d'ailleurs de l'odeur du rouge à lèvres (Prada, Guerlain, Maison Margiela, marques de niche et même H&M) même si les flacons optent pour des teintes plus rosées.
Le rouge offre aussi un large spectre de notes olfactives : cerise (toujours très tendance), fruits rouges, piment, safran, rhubarbe, grenade, rose, coquelicot mais aussi des notes boisées : cèdre rouge, sequoia (redwood en anglais)… De même, il n'y a pas un rouge mais plusieurs teintes rouges : carmin, vermillon, bordeaux, alizarine…
Certaines marques optent pour leur part pour des jus rouges comme La fille de Berlin de Serge Lutens, couleur sang. La teinte du jus surprend et le parfum se vend particulièrement bien dans certains pays explique la marque. Attention cependant à bien doser pour ne pas tacher les vêtements !
Si les ingrédients olfactifs rouges et les nuances de rouge sont infinis, le rouge permet de véhiculer de multiples messages : luxe, passion, énergie, amour, intensité, sensualité, danger, etc. Cette multiplicité créative renforce l'intérêt pour les marques d'explorer le rouge.
> Quels thèmes inspireront les parfums à venir ? Rencontrons-nous pour en discuter.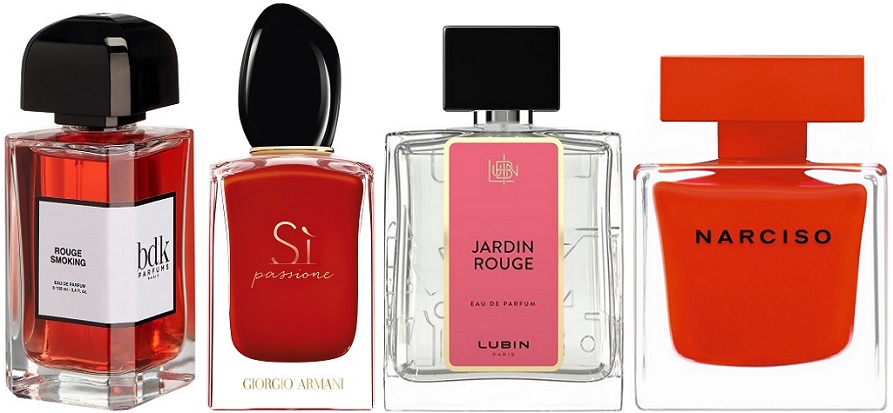 Collector editions, flankers or new products: red inspires perfume brands and sells well.
At the end of 2018, Chanel adorn their bottles of No. 5 and No. 5 L'Eau in red. A very visual garnet red hue that gives a real modernity to the product; the fragrances remaining unchanged. The change of colour gives a fresh boost to the brand and the campaign is a commercial success. In 2015, Mugler also relooked Angel's bottle in red without changing the fragrance. The operation was less publicized but as for No. 5, the flask turned red aroused interest and surprise.
Red is currently fashionable and some brands recently launched red variations of their perfumes: Armani Sì Passione (fruity floral), Flower by Kenzo Red (more solar than the original) or Narciso Eau de Parfum Rouge (powdery floriental). Among new products, Rouge Smoking by niche brand BDK refers to the world of Pigalle, one of the red-light district of Paris. As for Rose Rouge by Van Cleef & Arpels, the flower is treated with a slightly edible facet.
The red trend is not new but is growing. Red is very visible on store shelves, an asset for points of sale that are overloaded with new products.
Red is also very present thanks to the influence of lipstick, an entry-level product for luxury brands. Many perfume brands are inspired by the scent of lipstick (Prada, Guerlain, Maison Margiela, niche brands and even H&M) even if the bottles generally opt for more rosy hues.
Red also offers a broad spectrum of olfactory notes: cherry (still very trendy), red berries, chili pepper, saffron, rhubarb, pomegranate, rose, poppy but also woody notes: red cedar, redwood… Similarly, there is not one red but several red hues: carmine, vermilion, burgundy, alizarin…
Some brands opt for red juices like La fille de Berlin by Serge Lutens (blood red juice). The hue is surprising and the perfume sells particularly well in some countries, explains the brand. Be careful, however, to dose carefully to avoid staining clothes!
If red olfactory ingredients and red shades are infinite, red also conveys multiple messages: luxury, passion, energy, love, intensity, sensuality, danger, etc. This creative multiplicity reinforces the interest for brands to explore red.
> What trends will inspire the fragrances of tomorrow? Let's meet to discuss it.