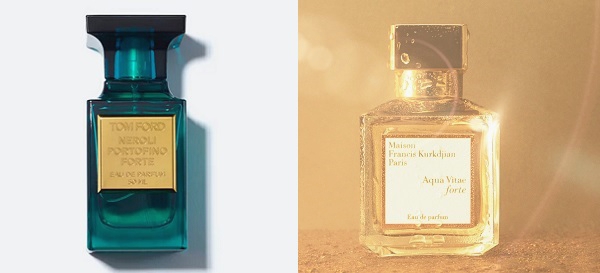 (Read the English version below)
Dans un marché alternatif saturé en nouveautés, les marques devraient consolider l'offre avec des variations d'intensité de produits existants.
Consolider l'offre existante
En retard sur le circuit sélectif, la niche se lance dans les variations d'intensité. Le marché des parfums alternatifs est en effet moins mature et moins flankerisé ; les marques privilégiant largement la nouveauté à la consolidation de lignes existantes. Ce qui contribue à saturer le marché et les oblige parfois à rationaliser en discontinuant, comme pour les grandes marques.
Mais les choses évoluent. Certaines fragrances se déclinent en versions plus intenses, par exemple chez Acqua di Parma, Tom Ford ou Maison Francis Kurkdjian. A l'inverse, les marques recrutent aussi avec des eaux ou des déclinaisons fraîches. Ce sont des produits moins concentrés, souvent moins chers mais aussi plus accessibles olfactivement. Ces deux cas de figure permettent d'élargir la clientèle de la marque et de favoriser la création de parfums piliers.
Intensité et prix
Un nombre croissant de marques de niche proposent une offre "parfum" ou "extrait de parfum". La plupart des produits ont une taille classique (50 ou 100 ml) mais des prix premium. Ces produits correspondent souvent à des collections à part, rarement à des versions concentrées de parfums déjà au catalogue.
Les marques peuvent jouer sur le volume. La comparaison de prix est rendue difficile par les différences de tailles (entre marques, ou entre différents produits d'une même marque) : un avantage certain.
Plusieurs pistes intéressantes pour la niche (et le sélectif)
1- Coupler la vente de deux produits de même ligne mais d'intensités différentes, à porter selon l'occasion. Exemple : inclure une dose d'essai de la version intense -ou fraîche. La taille doit être généreuse (8 ou 10 ml) pour fidéliser le client.
2- Suggérer l'intensité passe aussi par le point de vente. Vaporiser quatre fois une mouillette face au client ne le convaincra pas d'un jus intense.
3- Revendiquer une durée chiffrée de tenue (par exemple : 5 heures) ne doit pas être un tabou en circuit sélectif. Beaucoup de rachats se perdent car "le parfum ne tient pas, je ne le rachèterai pas".
4- Communiquer sur la concentration en % de parfum. Atelier Cologne affiche sur son site la concentration en pourcents de chaque parfum. Mais pas sur le flacon. Une idée intéressante, déjà utilisée par le passé par Frédéric Malle.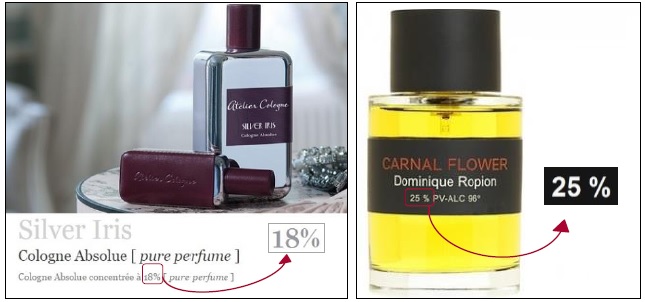 In a niche market saturated with new products, brands should consolidate the existing offer with variations of intensity.
Consolidate the existing offer
Lagging behind major brands, niche fragrances start to offer variations of intensity. The alternative fragrance market is less mature and less flankerised: brands much favour launching new products than consolidating existing fragrance lines. This contributes to saturate the market and sometimes compels them to rationalise by discontinuing, as for major brands.
But things are changing. Several initiatives show that intensity becomes a means to recruit consumers and grow in value.
Certain fragrances are available in more intense versions, for instance at Acqua di Parma, Tom Ford and Maison Francis Kurkdjian. Furthermore, brands also recruit with light or "acqua" versions. These products are less concentrated, often less expensive but also olfactorily more accessible. These two scenarios make it possible to expand the brand's clientele and foster the creation of pillar fragrances.
Intensity and price
A growing number of niche brands offer products in concentrations "parfum" or "extrait de parfum". Most of these products have a traditional size (50 or 100ml), but premium prices. These products often correspond to distinct collections, rarely to concentrated versions of existing fragrances.
Brands can modify the volume. The price comparison has become difficult due to size differences (between brands, or between different products of a same brand): a clear advantage.
Food for thought for niche (and major) brands
1- Couple the sale of two products of the same line but of different intensities, to be worn on different occasions. For example, by including a sample of the intense (or fresh) version. A generous size of 8 or 10ml is a good way to create customer loyalty.
2- Suggesting intensity is also a concern of point of sale. Spraying four times a blotter in front of a customer won't convince her that the fragrance is intense.
3- Claiming a "quantified lasting" (e.g.: 5 hours) mustn't be a taboo in the selective distribution. Many customers won't buy again a fragrance because "it doesn't last on me".
4-Communicate on the % concentration of fragrance. On their website, Atelier Cologne indicate the fragrance concentration in percent for every fragrance. But not on the bottles. An interesting idea, used in the past by Frédéric Malle.